What are, VIRTUAL BUSINESS SERVICES?
When describing our specific Inside Sales Virtual Business Services, I am frequently asked the same questions. Following are just a few of the answers:
Overall Process of Calling
How many callers will be assigned to our company? We provide a maximum of 2 callers per 10 calling hours purchased per week by the client. Therefore; if you purchase 20 calling hours per week you will have assigned the best pre-chosen 3 or 4 max callers which you will know and get to speak with prior the their initial dial. Then, for as long as you are a client of ours, you continue that, "Full Circle of Communication" between you, your callers and myself.
How do you generate appointments? Everything we do and say is professional and polite and insightful. We are not a call center with untrained telemarketers making as many dials as they can per hour and you not knowing how your company is being represented. We do what you want us to do as if we were in the next office just down the hall from you. We verify the top decision maker (Which those titles are determined by you of course); we then do our very best to obtain their email; (We email a lot and that alone drastically increases our productivity) which is just part of what we do; we then present to that verified decision maker and utilizing the script that I personally create with you and your associates, initiate a conversation about the benefits which (OUR CLIENT'S COMPANY NAME) will bring the that DM's company. Talking points provided by you are always included in the script.
How many producers can you handle? I began this company here in, Milwaukee in 2000. I have access to unlimited talent to fit the largest of clients. Typically though, our new clients purchase about 20 calling hours per week to get a feel of us then they continue to increase the number of calling hours per week as we assist in their sales revenue increase and they hire additional representatives. Please know that a great amount of my day is working with and training potential and new callers – that is a never-ending task I have to do in order to provide the talent that we do. Please refer to our website @ www.lkmkt.com or additional details.
Who will be calling? Overseas or United States based? Where is your company based? I love getting asked this. Although, it is better when I am asked on the phone because my response is that I have the thickest accent of any of our callers because I grew up in Milwaukee, Wisconsin… (Sometimes that has even, "sealed the deal!") Currently we are in Oconomowoc, Wisconsin. Most of our callers reside in Wisconsin and all within the United States. Yes, we are virtual – the business model of the future. Instead of paying for brick and mortar overhead, you are paying for the top talent which you, "Watch and hear" utilizing our web based CMP.
Lead Generation
Do you provide lead lists or do we need to provide it? This is up to you. If you do have a prospect list, we will gladly work with it after I work with you to, "clean it up" - removing duplicates and… Otherwise for 17 years, I have allowed myself to be sought after by business list compilers throughout the US. I have worked with them all – literally. Any list compiler promises a lot and provides mediocre; what we do with the list is what gives you a perfect prospect list; as we are calling we are also verifying what companies are out of business… moved… or been bought out. You end up with a perfect up to date prospect list that does not exist anywhere else.
If you provide, where do you pull the list from? Currently we work with, "Natimark" www.natimark.com I am charged @ .05 cents per company with all available data. That is also all that I pass on to the client no matter how large or small a list. Then, together – the client and I specifically select their ideal prospect list for us to call upon - you know what that is not us; yet I specialize in assisting you in creating it at no extra charge.
Reporting
What CRM system do you use? I began utilizing CRM's in 1995. Since then I have worked with dozens and we continue to when our client's request we work within their CRM. Otherwise, for every 10 hours purchased, every LK Marketing client receives 1 user access to our own CRM at no extra charge 24/7. http://www.quickbase.com/product-tour
How will we access the reports? You will automatically receive 2 automated reports every Monday; 1 – of all the call notes made on your behalf the week prior; 2 – all the appointments scheduled the week prior; (of course this is just a snapshot version of the appointments you receive as they are scheduled). Any other reports you would like automated and or at your request are at no extra charge; of course you will have access to pull all your own reports 24/7.
How many appointments/reaches per hour? The number of appointments you get completely depends on your pre-specified qualifiers. When we have a rep that says, "Get me in the door with any DM; we schedule frequent appointments. In comparison to a sales rep that says, "I want to make sure that the prospect's contract is up in 90 days or less; that they have a verified specific need of this and of that… Then you will get less frequent appointments. Because you have 24/7 access to your CRM database privided by LK Marketing, you may consistently know what they are saying via every detailed call note inputted. Then, you are an active participant in the project – you suggest better ways to overcome objectives… you suggest how better to get their approval when they are, "On the fence"… Of course, we're getting you in the door.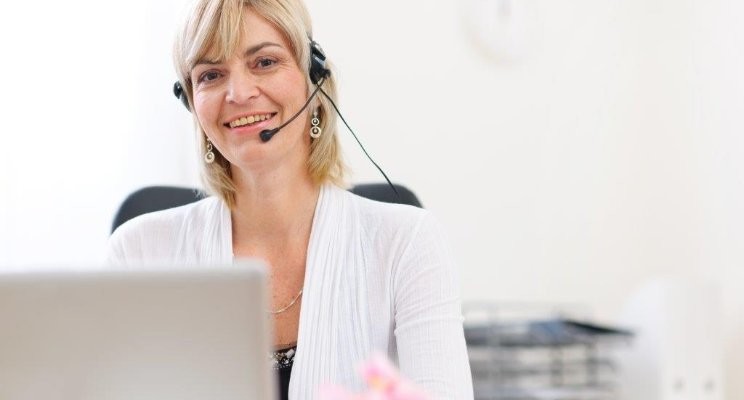 About This Contributor
Liz Kaminski
How good are your B2B sales persons getting past gatekeepers
Liz's specialty is B2B sales and training others to excel in any service and/or product they represent. There is a process as well as a skill which can be learned with the proper tools and self-confidence. "VIRTUAL" Presentations are welcomed!