7 Miles for Sushi
Creating a loyal customer involves several facets; engagement, great service, appreciation, and follow up to name a few. Customer service runs deeper than just a department and a title. It is an intentional choice which is woven into the fabric of successful businesses everywhere.
I love great food, but what I love even more is a fantastic dining experience. I would much rather be a guest at a place which rocked my socks off with stellar service as opposed to eating great food where I did not feel welcome. Most customers are exactly the same way. They want to feel wanted, appreciated, and taken care of.
While I realize that I lost a few readers due to the title, I really do enjoy this Japanese delicacy that in some parts of the country is affectionately referred to as "bait". In this message, you will be reminded of 3 things that are crucial to success in growing your business.
My friend Tony and I were in Las Vegas catching up on business matters and had just finished speaking a large convention. After a long day of walking to and from meeting rooms and delivering motivating and marketing speeches, we were famished.
When Tony and I happen to be in the same city, we have a tradition of going out for sushi. We were seated at a table in the half-full restaurant and waited 45 minutes before deciding to leave.
Vegas is a city of getting what you want when you want it, regardless of the time of day or night. That is true, of course unless you are from the Midwest looking for a tasty plate of raw fish. We walked from hotel to hotel, wearing out our shoes in the process, with our stomachs grumbling all of the way.
Finally, after what seemed like an eternity, we discovered a wonderful place inside the MGM Grand Hotel named Shibuya. They were in the process of closing up when we approached the hostess, telling her of our 7 mile quest for sushi at all costs. We would not be denied!
"No problem" she told us as she motioned to our server who gladly guided us to our table. The staff was exciting and attentive and the food was worth every step of our journey. Yes, we'd finally found relief for our sushi craving!
At this dinner, Tony and I discussed several goal planning and strategic marketing ideas for the upcoming year. We were in there well past closing time; yet the staff treated us like family. What a positive and dramatic change compared to the first restaurant that evening.
Based on this experience and our dogged persistence to have a great meal at all costs even if it included walking several miles to find it, there are three lessons I would like you to think about when it comes to taking your customer service to the next level:
Bend over backwards, sideways, and always go above and beyond for your customers. You never know how they may impact your business. I have shared this story with nearly 150,000 people worldwide and Shibuya keeps getting free commercials from me because of this great experience! Sadly, many businesses don't get this concept. Read the 3 Commandments of Creating Contagious Customers here.
Create a contagious culture. Too many businesses have something crafty printed on the wall, but it is not going on down the hall. If your business is cool to do business with, people will gravitate towards you!
Build your people closet. Get to know everyone at networking events, your kid's sporting events, and at other functions. Don't puke your business all over them...just listen, and be more interested than interesting. That will pay off.
On a side note, always bring a good pair of walking shoes when you visit Las Vegas!!!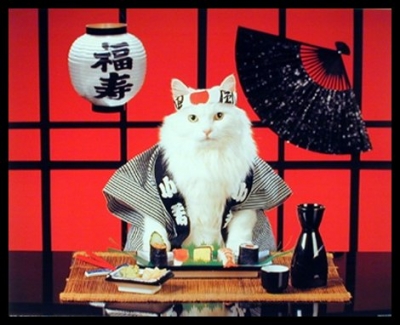 About This Contributor
Dave Sheffield
America's TOP motivational Shef!
Discover why my high-energy, interactive, and entertaining programs are a hit with audiences everywhere!